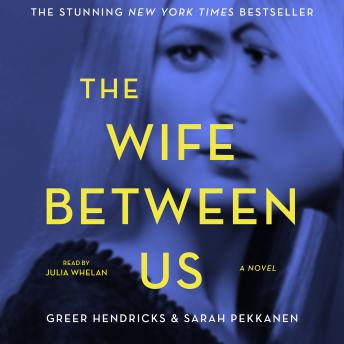 Written By: Greer Hendricks, Sarah Pekkanen
Narrated By: Julia Whelan
Publisher: Macmillan Audio
Date: January 2018
Duration: 11 hours 15 minutes
Book Rating 
(695)
Narrator Rating 
(123)
Summary:
'Julia Whelan reads the novel in her low, pleasant voice, moving down a register to capture Richard's infuriating condescension and lightening slightly for the younger Emma. With its perfidious turns, this escapist entertainment is a fine example of the 21st century's more cynical version of the O. Henry ending.' – The Washington Post
From Greer Hendricks and Sarah Pekkanen comes the next hit audiobook thriller, an instant New York Times bestseller!
When you listen to this audiobook, you will make many assumptions.
You will assume you are listening to a story about a jealous ex-wife.
You will assume she is obsessed with her replacement – a beautiful, younger woman who is about to marry the man they both love.
You will assume you know the anatomy of this tangled love triangle.
Assume nothing.
Twisted and deliciously chilling, The Wife Between Us exposes the secret complexities of an enviable marriage – and the dangerous truths we ignore in the name of love.
Listen for the truth between the lies.
Praise for The Wife Between Us:
'Addictive domestic thrillers with twist-filled plots and unreliable narrators are increasingly popular. Add in assumptions that should not be assumed, shape-shifting, surprising characters and a complex chronology, and you have a hint of what you'll find in The Wife Between Us…All will be made clear, or perhaps not, as you listen to Julia Whelan's tautly paced performance.' – BookPage
"A clever thriller with masterful twists." – Karin Slaughter, New York Times bestselling author of The Kept Woman
'Readers who were enthralled by B.A. Paris's Behind Closed Doors and Gillian Flynn's Gone Girl will love the skewed psychology and shifting perspectives in this domestic thriller.' – Library Journal
'A fiendishly clever romantic thriller in the vein of Gone Girl and The Girl on the Train. This one will keep you guessing.' -Anita Shreve, New York Times bestselling author of The Stars are Fire
'A twisty, mind-bending novel about marriage and betrayal. A gripping plot and fascinating characters; this book will keep you turning the pages and guessing until the very end. A must-read!' -Lauren Weisberger, New York Times bestselling author of The Devil Wears Prada
This audiobook contains a bonus interview with the authors.